The Dubai bond prospectus has revealed some new information about the emirate's economy and confirmed others. Here is a look at some of the most interesting aspects of Dubai's economy.
For all those who didn't read the 123-page Dubai bond prospectus, we have digested the fact-filled proposal to reveal some of the most interesting aspects of the emirate's economy. Some of it may come as a surprise, while other pieces of information confirm that we already know. In any case, it has led to more transparency about the emirate's economy.

Here is the most interesting points - digested:

Dubai Is Conscious It Could Be A Terrorism Target
The emirate notes that it is dependent on expatriate labour and has attracted high volumes of foreign businesses and tourists to the emirate. "These steps make it potentially more vulnerable should regional instability increase or foreign militants commence operations in the emirate," the prospectus notes.

Dubai Will Support GREs (At Its Sole Discretion)
After the brouhaha surrounding Dubai World's debt, and whether the Dubai Government was liable for its liabilities, the prospectus notes the following regarding government-related entities (GREs) liabilities:

"Certain strategic GREs have significant borrowings which are not direct obligations of the Government of Dubai. If any of these entities are unable to, or are potentially unable to, fulfil their debt obligations, the Government of Dubai, although not legally obliged to do so and without any obligation whatsoever, may at its sole discretion decide to extend such support as it may deem suitable, and based on such terms as it may deem suitable, to any such entities in order to allow them to meet their debt obligations."
Dubai Has A Young Population
64% of the population is between the age of 20 to 39, of which nearly 20% are between the age of 30 to 34.

The UAE Has Unresolved Border Issues
Apart from its dispute with Iran on the three Gulf islands, the issue with Saudi Arabia and Qatar are still not resolved.

Readers may remember that Saudi Arabia had thrown the spanner in the works putting in jeopardy the Dolphin Project back in 2006. (Read)

The prospectus also notes that the UAE is also seeking, through negotiation, "to resolve issues related to the 1974 provisional and, as yet, unratified, agreement with Saudi Arabia on the border between the two countries, which the UAE believes should be substantially amended."

Details On How Real Estate Impacted On Dubai GDP
Dubai's nominal GDP growth rates contracted by 14.2% in 2009. Meanwhile, the emirate's real GDP fell 2.4% in 2009.

This decline was primarily due to Dubai's real estate sector which fell by 19.8% in 2009 and 2.6% in 2010; construction fell by 19.5% in 2009 and 14.7% in 2010. Real estate sector, which contributed 17.9% to the emirate's GDP, now contributes 13.7% to the economy.

217 Projects Were Cancelled
According to RERA, of the total number of registered projects at 31 May 2011, 129 projects have been completed since the beginning of 2009. In the last two years, RERA has additionally completed a review of more than 450 projects and, of these reviewed projects, 237 are expected to be completed in due course. 217 registered projects have been cancelled by RERA as at 31 May 2011.

"The Government of Dubai also launched a new initiative in 2010 to certify projects called 'tayseer'. A total of 114 projects have been selected as at 31 May 2011," the prospectus notes. "Under this programme, projects are scrutinised, approved and certified by the Department of Land and Properties based on due diligence criteria."



Dubai's GDP Is 30% of UAE GDP
Dubai contributed 30% to the UAE's real GDP in 2010, or $79-billion out of the $266-billion UAE economy last year. The 30% figure has remained largely unchanged since 2007.

Within Dubai, no single economic sector contributed more than 31% to total GDP in 2010, with the largest sector being the wholesale and retail trade and repairing services sector which contributed 30.3% of the emirate's GDP.

"Other significant contributors to GDP in 2010 include the transport, storage and communications sector, which contributed AED 41.5 billion, or 14.1%, to GDP."

DED Licence Issuance Still Below Pre-Crisis Levels
Licences issued by Dubai Economic Department are rising, but have not reached pre-crisis level, except for 'professional' licenses. Presumably these were expats and nationals who chose to start their own businesses.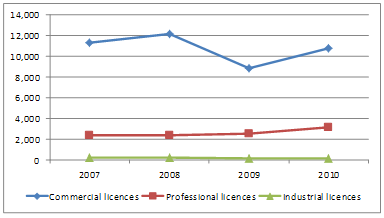 Exactly 1,352,248 people were employed in Dubai in 2009, with an unemployment rate of 0.8%.

Hospitality Revenues Are Growing
Dubai has 382 hotels, which generated AED 11.3-billion in 2010, compared to AED 10.6-billion in 2009. Dubai hotels generate 3.7% of the emirate's GDP.

Number Of DIFC-Registered Companies Declined
DIFC saw the number of registered companies fall from 859 in 2009 to 792 in 2010. During the year, 113 new companies set up shop in DIFC - which means that 46 DIFC-registered companies left the DIFC in 2010.

Dubai's Total Trade Has Not Reached Pre-Crisis Levels Yet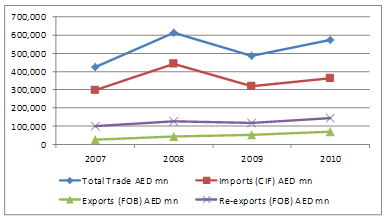 "Dubai's principal merchandise imports in 2010 were semi-precious stones, precious stones and imitation jewellery (accounting for approximately 34.3% of total imports) and machinery, electrical and electronic equipment (accounting for approximately 18.1% of total imports)," the prospectus notes.

The emirate's trade flows are heavily geared towards Asia. India is the largest export and re-export market for Dubai. The prospectus makes no mention of Iran's trade with Dubai, which is presumably significant.

The Stock Market Index Fell Of A Cliff (We Know, But Still It's Quite Graphic To Revisit)
The Dubai stockmarket's decline is well-dcoumented, but it is still stunning to look at in a set of tables:


It's Official: Dubai Government Debt Is AED115.4Bn ($31.4Bn)
The Dubai Government's total debt stood at AED 115.4-billion as at May 20, 2011, or 39% of 2010 real GDP.

The prospectus notes that this debt includes funds borrowed by the Government of Dubai to finance:
the expansion of Dubai International Airport;
(ii) the first phase of the construction of Al Maktoum International Airport;
(iii) other infrastructure projects in Dubai;
(iv) borrowings by ICD itself but not of any of its subsidiaries or other group companies; and
(v) related party debt from the Abu Dhabi Government and the Central Bank of the UAE for the DFSF and the restructuring of the Dubai World Group.