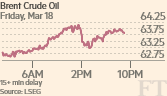 A rollercoaster ride for oil prices on Friday. Having risen sharply on the UN security council Libya resolution, they have plunged on reports of a ceasefire announcement from the Gaddafi government.
Tripoli closed Libyan airspace in response to the no-fly resolution but also pledged to stop fighting in a move that was clearly designed to give foreign power fewer reasons to intervene.
April brent, which touched $117.20 a barrel earlier in the day, plunged from $116.30 to $113.48 in the space of a few minutes on the news from Tripoli.